Cups of Nasomatto, a story.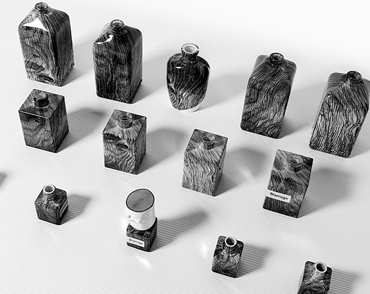 The perfumer Alessandro Galtieri is called one of the most scandalous and extraordinary geniuses of the modern fragrance industry.
His perfumery creations embody rebellion, challenge, the wildest fantasies of the genius author. The provocation of Nasomatto perfumery is explained by the use of many unconventional and rare components, such as absinthe or hemp.
Alessandro Gualtieri is closely related to materials. Every ingredient, how it is used and made like a bottle, cap, and packaging - are important for him.
Particular attention should be paid to the design of the bottles. All of them are made in a special form: slightly oblong shape with a massive lid, sometimes exceeding the size of the bottle itself.
The materials and colors represent the ideas or ingredients that were used to create the scent, the caps embody the physical representation of the olfactory image.
The lids are made with the wood of different colors and shapes: from light, almost white, to ebony. All covers are made of precious woods and each one of them - is exclusive. The wood pattern is as inimitable and unique as fingerprints. This genius idea gives to every owner of a fragrance a special feeling, that his perfume is not just a basic scent - it is a pure piece of art.