Hair mists Casamorati 30 ml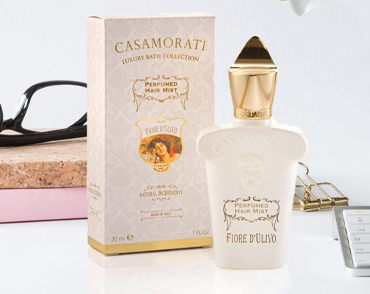 Hair mists are volume sprays that are most often infused with the same scent as their parent perfume. These products are a perfect complement to the bath line.
You can spray hair mists to refresh your scent of the day or as a 'stand alone' product.
It is no secret that hair keeps the scent much longer than skin and if you want to wear your scent for as long as possible - this product is a perfect option for you.
Hair mists are also perfect for the coming season: they give you a softer sounding scent for intense fragrances. You don't need to search for 'something similar but less pronounced': go for a softer version of your inner you.
Casamorati - Dama Bianca hair mist, 30 ml
Casamorati - Lira hair mist, 30 ml
Casamorati - Bouquet Ideale hair mist, 30 ml
Casamorati - Fiore D'ulivo hair mist, 30 ml
Casamorati - Dolce Amalfi hair mist, 30 ml
Xerjoff - Alexandria II, Perfumed Hair Mist 30 ml